Physical Education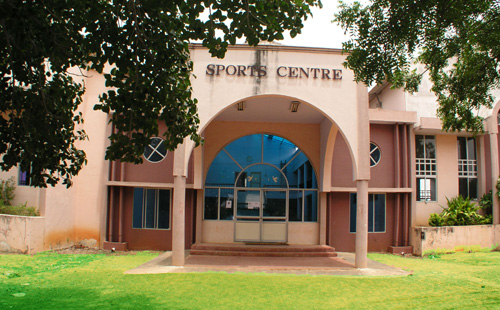 The department provides and maintains the sports facilities required by the students and the staff.
Sports Centre
The Sports Centre which is the hub of sports activities was inaugurated 1999.
The Sports Centre is a multi-facility multi-disciplinary sports complex aimed at developing well-rounded personalities of students. The building has an indoor stadium with two shuttle courts and a fitness centre. The construction of the Sports Centre has been carried out by the State P.W.D. at a cost of Rs. 97 lakhs.

The Director has ordered two more indoor stadiums which can accommodate two shuttle courts as well as a couple of table tennis tables in the student hostel avenue.

The fitness centre which also has a wooden flooring houses many exercise machines such as multi-station gym, tread mill, stairs, air walker, rowing machine, exercycle and so on. These are used by the students, staff and other residents of the campus.
Outdoor Stadia
The outdoor stadium has a 400M track. The cricket ground here hosts matches for the city league.
The campus is dotted with two football grounds, one hockey field, two volleyball courts, two basketball courts, three tennis courts and two ball badminton courts. Besides each hostel has separate playgrounds and indoor games such as table tennis and carroms
We thank the Director for sanctioning two basket ball courts of international standards worth 65 lakhs just in front of us behind the Swimming pool. Two Tennis courts are in pipeline.
Aqua Sports Complex
Constructed in 2003, this houses a 25M swimming pool. The 5 lakh litres of water is circulated through a filter once every ten hours with the use of a pump Separate time slots have been assigned for different segments of users. The institute also employs coaches for men and women. I again thank the director on behalf of the students and faculty for re inagurating the swimming pool after closure for more than two years.
Credit for Sports
In our revised credit - based curriculum, NSO (National Sports Organisation) activity carries credits in the undergraduate engineering education. By offering credits on power with academic ones, the students are encouraged to take up sports pursuits. The sports centre offers the facilities required to train and evaluate the students.